If you're struggling with poor connectivity and dropped connections, it may be time to upgrade your WiFi antenna. The right antenna can make a big difference in the strength and range of your WiFi signal.
I Will help you to find the best WiFi Antenna for your need by providing a guide for the type of antennas, Antenna dBi gain, different connector types etc.
You can replace your stock antenna with an external antenna to use it indoors or outdoors.
What is a WiFi antenna, and how does it impact your wireless network?
WiFi is a wireless technology that lets devices talk to each other through an antenna. So, technically, a WiFi antenna is a piece of hardware that sends and receives radio waves to make a wireless connection possible.
It is an essential component of any wireless network as it helps boost the signal strength of the network. Signal range and data speed depend highly on the antenna.
Though there are other factors as well, but the antenna is the gateway of the signal for a WiFi device, whether it is a transmitter like a router, a receiver, a WiFi adapter for PC, or an extender.
Replacing your stock antenna can improve weak WiFi signals.
Are you struggling with weak WiFi signals? WiFi antennas could make the difference. Every WiFi device, like a router or PCIe card, has some kind of antenna built in.
But there are individual external antennas that can be attached to any WiFi device to increase the transmission and reception strengths.
Now, before we find out the best alternative antennas for your stock antennas, let's understand about the types of antennas.
Types of WiFi Antennas
Depending on your needs, you can choose from a variety of different types of WiFi antennas, such as directional antennas, omni-directional antennas, and parabolic grid antennas. They can also be categorized as indoor and outdoor WiFi antennas.
Directional Antennas
Directional antennas, also known as beam antennas, are designed to focus the WiFi signal in a specific direction. These are long range antennas, but only focus in a specific direction.
This makes them ideal for point-to-point communication over long distances, such as connecting two buildings or providing a WiFi signal to a remote location.
Omni-directional Antennas
Omni-directional antennas, as the name suggests, can transmit the WiFi signal in all directions. These are the common WiFi antennas that almost all routers come with.
These may not be suitable for transmitting the signal over long distances, but they are good for providing coverage in all directions.
Which WiFi Antenna type should you choose?
It is simple to choose between the two types of antennas, for example: For a door camera to increase its reception, a directional antenna can be used for a point-to-point connection between the router and camera. But to provide wifi connectivity in all directions to connect multiple devices, omni-directional is the perfect choice.
Directional antennas are ideal for:
Point-to-point communication over long distances
Connecting two buildings or locations
Rural broadband connections
Wireless backhaul
Omni-directional antennas are ideal for:
Providing WiFi coverage to a wide area, such as a home or office
Small business WiFi networks
Indoor WiFi networks
It's important to note that there may be other factors to consider when choosing an antenna, such as the frequency band used, the gain of the antenna, and any potential interference in the area.
Now let's find out the WiFi antennas.
So, I have curated a few options for the best WiFi antennas for routers and PCI cards. I have categorized them based on their types.
Most of the WiFi devices come with detachable antennas, and if that is the case, you can replace or upgrade your stock antenna with other high-gain antenna or you can even attach an external antenna.
Please keep in mind that I only mentioned antennas alone in this post and not WiFi adapters or receivers. You can check the
best WiFi adapters
here.
Best omni-directional indoor WiFi antennas
Omni-directional antennas come in a variety of shapes and sizes, including the rubber duck antenna, puck antenna, and wall-mounted antenna. They are available for both indoor and outdoor use. Let's find out some of the best.
Best external antenna to attach to the PCIe card of a desktop PC.
It is a great replacement antenna for your desktop PCIe network card. Its sensitive omnidirectional antenna will help to catch the stronger WiFi / Bluetooth signals.
A PCIe WiFi card is attached to the motherboard of your computer. And you can easily attach this external antenna to the WLAN adapter with its 6.5 feet long antenna extension cable. and its 6dBi gain give you long range to receive the signals from router.
Features
Omnidirectional indoor wifi antenna
Dual band support (2.4 GHz and 5 GHz)
Dual RP-SMA male connector.
6.5 feet long dual cable.
bendable antenna
magnetic base.
ideal for WiFi card, external USB WiFi adapter or range extenders.
Antenna size is 7.08 inches
6 dBi signal gain.
Best small WiFi antenna to attach to a security camera, door bell etc.
Best suited for any kind of WiFi devices like router, access, points, range extenders, security cameras, ring bells, backup camera, Truck RV camera etc.
Attach this small WiFi antenna to increase the reception strength of your WiFi devices. Due to its smaller size it can be easily fit into smaller space.
Features
Omnidirectional with RP-SMA connector
Antenna height is 2.6 inch straight and 1.9 inch rotated.
Dual band supported (2.4 GHz and 5 GHz)
Multi angle rotation antenna
2 to 4 dBi gain
High gain external antenna with magnetic base
This is a high dBi omnidirectional antenna with magnetic base. It comes with SMA male connector.
9 Dbi signal gain give it a longer range and its longer height give it a good reception quality.
Features:
Omnidirectional with SMA Male connector.
Dual band supported antenna 2.4 GHz to 5.8 GHz
It can also be used as 2.4GHz Bluetooth antenna for Bluetooth adapter and Speaker system.
Its height is 22 cm (8.6 inches)
comes with 3 meter (10 feet) long cable.
Signal gain is 9dBi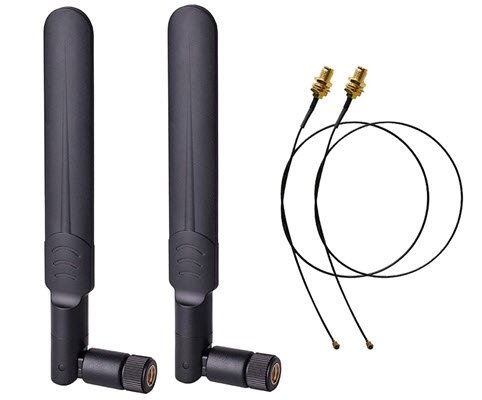 High gain replaceable antennas for router and PCIe cards
These antennas are suitable for Mini PCIe interface and not for the M.2 (NGFF) interface. It works with all network cards for PC, routers, range extenders, Mini ITX build, FPV UAV Drone, PS4 build etc.
You can replace the existing lower gain antennas of your router to these high gain antennas for longer transmission range.
Features
8 dBi omnidirectional antenna with dual band support and RP-SMA male connector.
includes u.fl / IPEX to RP-SMA female cable connectors with a length of 14 inches.
Antenna height is 6.3 inches straight and 5.3 inches bended.
another low price version comes with 6 dBi.
Best Omni-directional outdoor WiFi antennas
These are weatherproof and waterproof antennas good for outdoor use. These are omnidirectional antennas that can be used for public use.
Low profile Best vandal-Resistant WiFi antenna suitable for kiosks, vending machines etc.
This is the only tri-band antenna that I could find at the time of writing this post. This is a Vandal-Resistant Omnidirectional Triple Band Antenna.
It is suitable for kiosks, vending machines, control panels, NEMA enclosures, vehicles, and ceilings. Due to its small size and round shape having an height of just 0.65 inches it is hard to notice WiFi antenna.
Features
Vendal resistant and waterproof antenna.
It supports tri-band (2.4 GHz, 5 GHz and 6 GHz)
Dual MIMO Omnidirectional antenna with RP-SMA male connector.
Signal gain from 2 to 4 dBi
Ultra low profile wifi antenna with 0.65 inches height and a diameter of 3.2 inches round antenna.
Works on all wifi system like WiFi 6, WiFi 7 etc.
Through hole screw mount – 3 ft coax cable.
Another version of it with dual band support is also available on Amazon. Check out
This is a small omni-directional wall mount antenna for outdoor use.
It is suitable for WiFi IP security cameras, DVRs, industrial routers, M2M terminals, remote monitoring, FPV drones, etc. It is a good choice for backyards, stores, warehouses, restaurants etc.
Waterproof Dual Band WiFi 2.4GHz 5GHz 5.8GHz Mini Omni-Directional 5dBi Wall Mount Outdoor RP-SMA Male Antenna for WiFi Router Hotspot Wireless Network Card Security IP Camera
as of December 7, 2023 8:10 am
Features
Dual-band support (2.4 GHz and 5 GHz)
Omnidirectional antenna with RP-SMA male connector.
3 meters of RG174 cable and a wall-mount bracket are included.
It supports through-hole mounting and wall bracket mounting.
sturdy and IP67-rated waterproof
5 dBi gain.
Its height is less than 2 inches.
Long range 360 degree coverage high gain antenna ideal to create a public WiFi hot spot.
Omni-directional antenna with N-female connector. It is a longer 3 feet tall antenna. It can be used indoor as well outdoor.
You can use it to create your own public WiFi hotspot because its 12 dBi gain provides longer range coverage and its 3 feet of height provides wider coverage.
But it only comes in single band of 2.4 GHz.
Features
Long range WiFi antenna with 360 degree coverage.
Weatherproof fiberglass antenna with lightening protection – DC ground.
Single band (2.4 GHz) antenna with 12 dBi signal gain.
Due to its big size and high gain of 12 dBi it provide long range coverage.
Its height is 37 inches long.
Best directional WiFi antennas
Directional antennas can send and receive signals in a certain direction. They are best used to boost the signal to a single WiFi device, like a doorbell, camera, or ring bell. Here are some of the best chosen directional antennas.
Dual band indoor directional antenna
This is suitable to send WiFi signals in to certain direction towards a particular device.
This is a directional antenna with RP-SMA connector.
dual band support (2.4 GHz and 5 GHz)
It provides a gain of 8dBi@2.4GHz and 10dBi@5GHz.
Outdoor directional antenna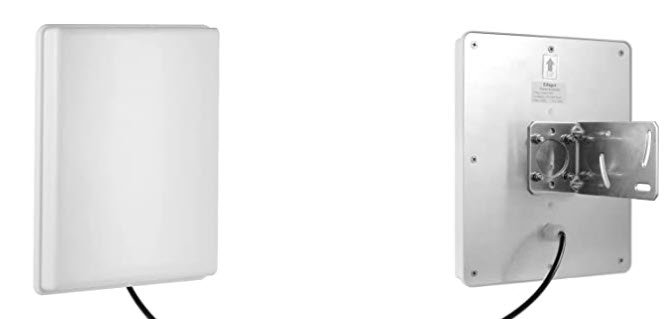 It extends the WiFi signals to up to half mile. Good to extend signals to the security cameras or other wifi device. It sends the sgnals towards a particular device by positioning it towards that device.
directional antenna with RP-SMA port.
15 dBi gain
waterproof design (IP67) for outdoor use.
10 feet cable to connect to the router, network card or IP camera.
Best long range outdoor point to point antennas
Ideal for very long distance point to point connectivity. It is an outdoor directional antennas providing long range connectivity between two buildings.
Its range is from 5 kilometers to 30 kilometers. WISPs (Wireless Internet Service Providers) use this antenna to provide commercial service to provide internet connection.
It comes in different shapes. A parabolic grid antennas provide extra range and are ideal for long-distance connections.
Also check: Long range waterproof WiFi extenders for outdoor use
Any of the antennas can be attached to either a transmitter device or a receiver device. It depends on your use case. An antenna can both receive and transmit signals.
What is dBi gain and which dBi antenna is best?
dBi is a unit of measurement used to compare the gain of antennas. It is used to measure the power of an antenna relative to an isotropic antenna, which is assumed to have a gain of 0 dBi.
The higher the dBi rating, the greater the gain and range of an antenna. but it does not mean that higher-gain antennas are better.
High-gain antennas have less bandwidth. The higher the gain, the lower the bandwidth.
WiFi Antenna: connector types
As we have seen, different types of connectors are discussed in the above antenna types. As a result, always ensure that the connector type is appropriate for your application. There are converter cables available for certain connectors.
The most confusing connector types are SMA and RP-SMA. So look carefully for the hole and pin to identify them. SMA is with a pin between it and RP-SMA is a hole in its center. Male connector have threads inside and female connectors have threads outside.
ufl and mmcx connectors are mostly used in drones and sma, rp-sma types are used in routers, extenders and wifi cards etc.
Things to consider before buying a new WiFi antenna
Always check the connector type before buying a new antenna. Check for the SMA or RP-SMA, as these are the common male female connectors. Otherwise, you need some kind of converter cable.
Check the signal gain or DBi of the antenna. Higher signal gain does not mean antenna provide higher range. It depends on your use case.
Check which frequency band the antenna supports. Some antenna supports single where as other supports dual or triple band.
Check for other features like how long the cable is and whether it comes with a magnetic base, etc.
Each antenna type has its own advantages and disadvantages, so it's important to understand which is the best fit for your setup before making a purchase.
Mostly indoor antennas and stock antennas that come with routers or PCI cards are omni-directional, but we can also use directional antennas for outdoor as well as indoor purposes.
FAQs
Best WiFi Antennas
Find out some of the best Wi-Fi antennas for desktop computer, drones, cameras and other purposes.